Kalibra Pro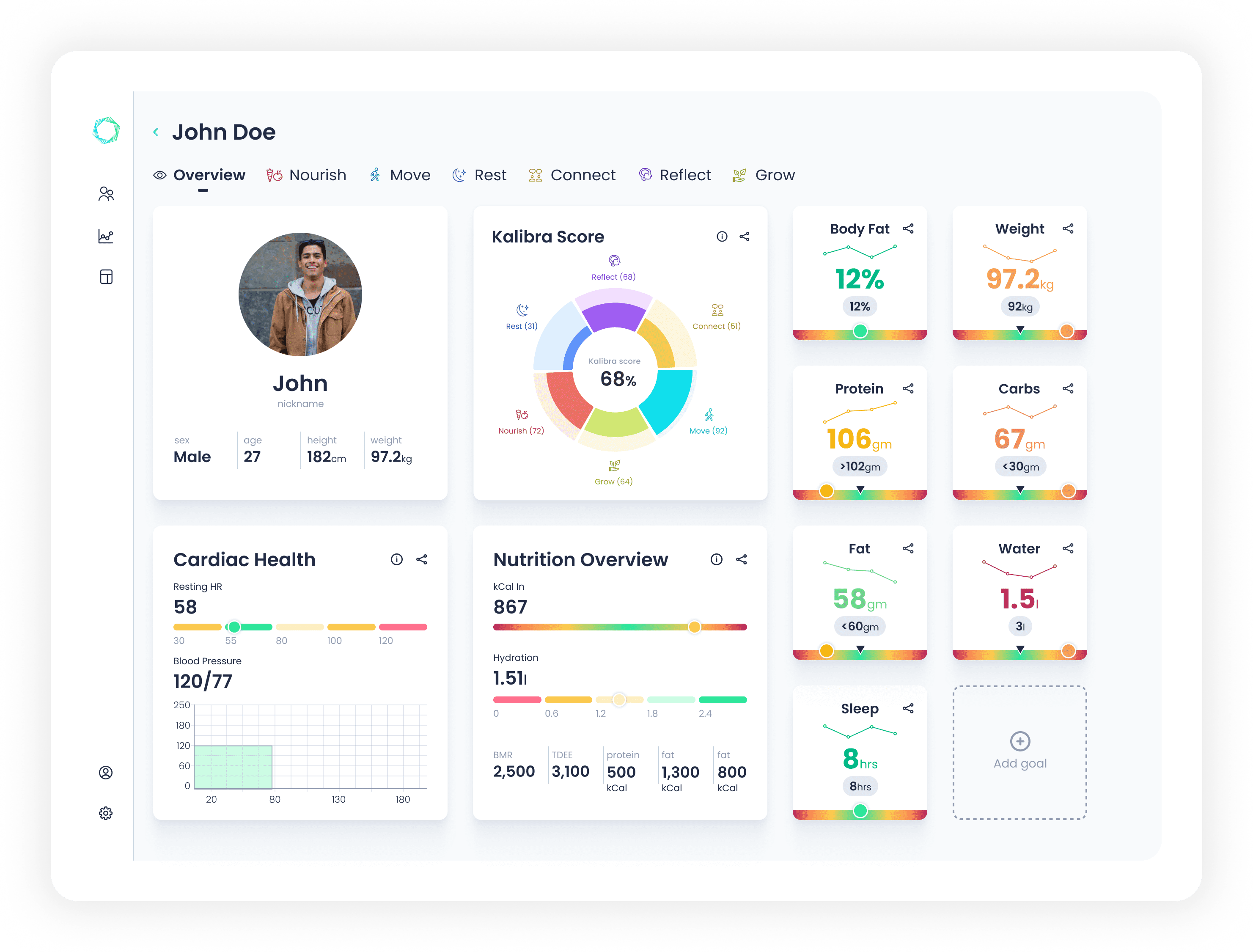 Continuous, 360 degree care for your clients
Monitor your clients' real time health status in an intuitive, consolidated platform. Physical, mental, social and emotional health, advanced telemetry, digital biomarkers and genetic/biome data – all in one place.
With over 15 wearable integrations, proprietary optical scans, intuitive visualisations and real-time actionable recommendations, our integrated platform will help you transform client engagement and outcomes.
Welcome to the future of preventive, continuous care.
Total You: 6 Pillars of Health
Kalibra helps you achieve a healthy balance between the physical, mental and social aspects of your health, and targeting effort and attention where you need it most. This is very personal and takes careful craftsmanship.
Central to Kalibra's philosophy is the application of the methods of physical sciences—quantification and analysis through precise diagnostics, measurements, advanced data analysis methods, machine learning, and inferential statistics. All of this in one integrated, intelligent platform.
Our nutrition, digestion, elimination, inflammation and micro/macro nutrient balance.
Our mobility, endurance, strength, muscle mass, bone density, performance and ready state.
Our relationships within our community, friends, loved ones and family.
Our constant self-development, purpose. Our "why' and relationship with our future self.
Our psychological state and mindset, mental health and connection with ourselves.
Our sleep, restfulness and recovery cycles. Our bedtime hygiene and habits.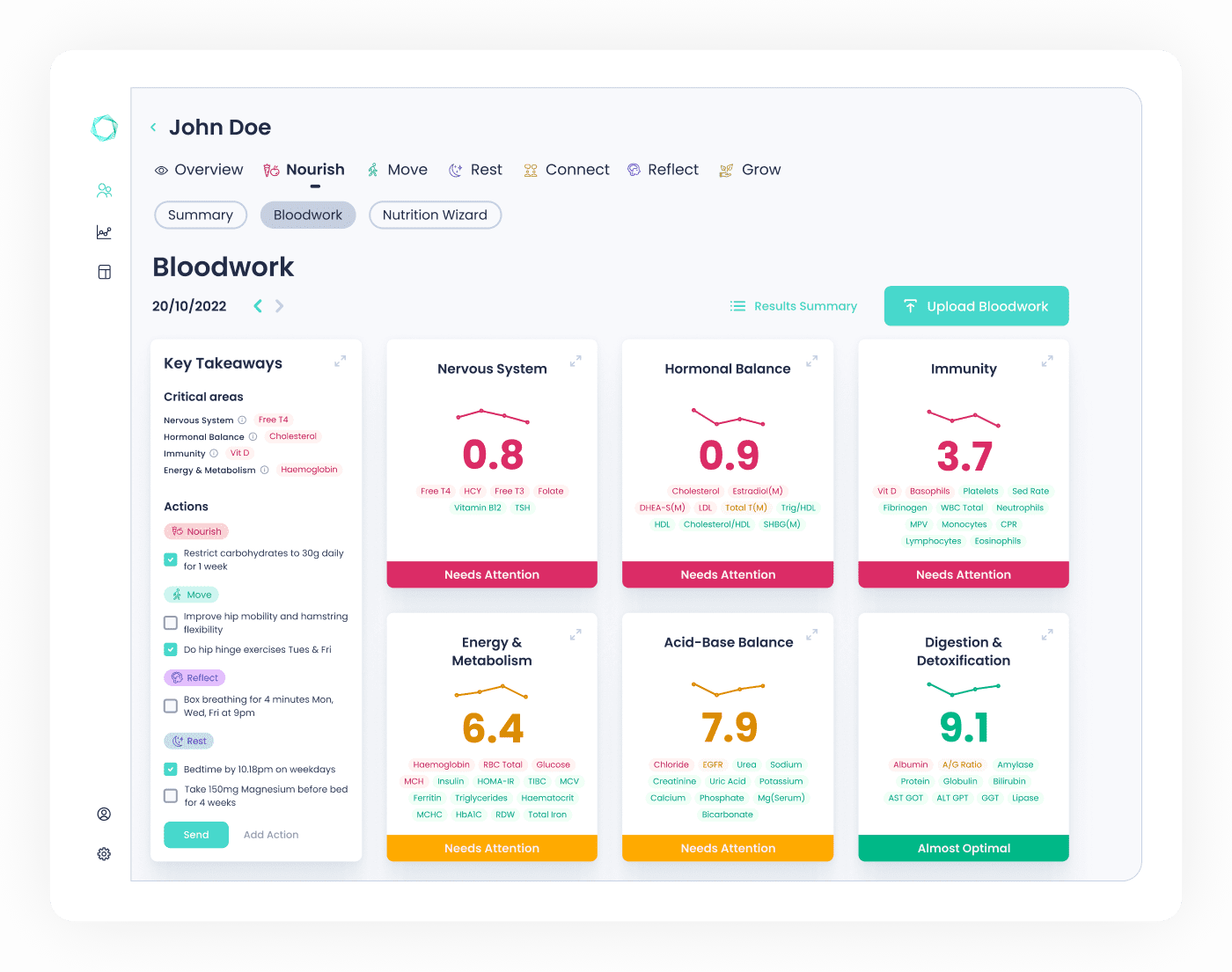 Intelligent, beautiful biomarker platform
Getting an objective baseline of where we are with our health often starts with biomarkers. There is a better way to engage with this very valuable data set, both for the practitioner and the client.
Kalibra re-imagines the modern lab test by integrating it with all our other health data, visualising it intuitively, presenting automated insights, hierarchical scores, and even AI-led actionable recommendations.
Bring your lab data into the web 3 world by making it composable, interactive, and smart.
Find your client's highest value actions
Leverage our AI platform to find the best action to take at each moment - unique to each of your clients.
Adapting to your clients' lifestyle
Kalibra constantly learns in order to find imbalances and surface them to you for action
Continuous care for your clients
24/7 monitoring of all your key performance indicators, automated. Only take action when you need to.
Healthspan as a service (HAAS)
Improve your clients' healthspan and longevity by enabling real time, preventive care.
A tailored wellbeing journey
Personalise every aspect of your client's improvement plan, and adjust it dynamically based on data.

Total privacy, by default.
LeverageDouble opt-in for data sharing. Data is never shared without an explicit client instruction.
Customised assessments - your unique intellectual property
Create fully customisable assessments and reports based on your unique approach. Use any marker, in any way that works for you. We have the ingredients – the recipe is yours.
Intuitively identify areas of focus with simple visual scorecards across vitals, body composition, mobility, genetics, biomarkers.
Provide personalised recommendations and insights to your clients to highlight areas of improvement.
Scale your practice with the help of our powerful data platform.
Drive next level engagement
Measure, share and celebrate progress with your clients via the Kalibra app, wearable integration and real-time client activity view and analysis.
Enable long-term habit formation through a systematic approach focusing on actionable, timely, measurable and consistent incremental improvements